Ive been a korn fan for a long time so im obviously excited by the thought of photographing the band tonight, It's been a strange night so far, not many people around, especially outside the venue, whats wrong? Is it off?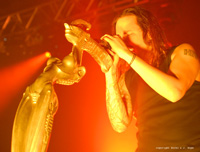 click the image for photos
Not sure , security guards let me in , I open the double doors to the Birmingham carling academy to find the place rammed to the rafters , its packed , bodies everywhere , a smelly sweaty musty heat rises from the tightly packed house floor …the atmosphere is intense , its like a coiled spring , its gona kick off , its just a matter of when ? The support acts have been and gone to pave the way for the big boys ….their hired muscle prowls the stage hoping to catch a glimpse of where the last object was thrown from? and believe me , I wouldn't wana **** with this guy , lights off ….small intro ….
...then fieldy takes to the stage with a kind of "we are fukin korn" written all over his face …..his bass is deafening,. Obscenely deafening, Jonathon Davies takes to the stage bouncing around like tigger completely engaging the now moshing crowd …
Right now, starting over, love song, hold on, here to stay, all the big bombs are being dropped on the brummies tonight, its only after my permitted 3 song photograph rule that I move to the rear of the venue and realise how good the stage looks, flash lights, spots and the old styley lazers, it all looks pretty amazing.
I've got to say though, Im struggling with a sense of Monkey, lets face it, Davies, Fieldy and monkey are korn, however due to family & personal reasons monkey pulled out the tour early this year, I hope alls well mate and hope to see you back in the fold soon, Rob Patterson was flown over to cover with Shane Gibson taking on the lead.
Over all the "bitch we gota problem tour" is a great success and just proves KORN are still there violently abusing your senses on a nightly basis …this was all summed up whilst leaving the venue when a guy said to me in a deep brummie accent "alrite mate, what a mosh that is " I looked up to find him in a bad way, where his eye should be it was just a blood bathed mess, but he's loving it!!!! .. that is KORN live !!!
James Hope
(james@rock3music.com)
Rock3 Review 'Coming Undone' single
myspace page