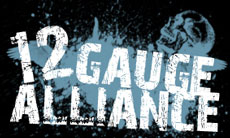 12 Gauge Alliance are an energetic evolving four-piece Electro/Metal band from the heart of South Wales. They formed in late 2005 as ex members of popular local South Wales bands and established a solid, dedicated and vast fan base, which has now put them on the map as one of the top UK unsigned bands.
By gaining a wealth of experience they came on to play with bands such as Skindred, Sikth, Architects, Kids In Glass Houses and Dopamine. In the summer of 2007 they also played The Full Ponty Festival with Lostprophets, The Gallows, Reel Big Fish and Paramore.
12 Gauge Alliance recorded their current material in Newport with Jeff and Ginge former members of Dubwar/Skindred in summer 2007 and have had great ratings/feedback through their myspace page (
www myspace.com/12gaugeallianceuk
). With the band selling up their myspace page on the 15th January 2007 it has already attracted over 350,000 profile views, almost half a million plays and a worldwide following of almost 40,000 in just 11 months. In addition to the recording the band had one of their tracks "Breaking Hearts Beating" featured on the 2007 Metal Hammer Soundtrack CD alongside Killswitch Engage, As I Lay dying, Lacuna Coil and The Gallows.
12 Gauge Alliance are looking forward to 2008 where they are back on the road with a very busy schedule where they will carry out a number of UK tours and an American tour in August 2008. The band also has recently been confirmed for a support slot playing with American band Aiden in Belgium June 2008 which the Band intend to use as one of their European Dates.
Rock3 Album Review