I had come across a band a few months ago on myspace called Onslaught. At first, i gave their music a listen and it came as a shock to me that these guys are Indian and they are rocking their socks, screaming their guts out with lyrics that carry a positive vibe on Christianity.
I bought their album online from a Indian music distributor website along with another album by a band called sceptre. The cover art was amazing, really "ONSLAUGHT" typical and to follow up was their well structured music.
So i thought these guys deserve an interview.
Straight out through the Gates of India, i present you Yohan Issac, Guitarist of the Christian metal band Onslaught.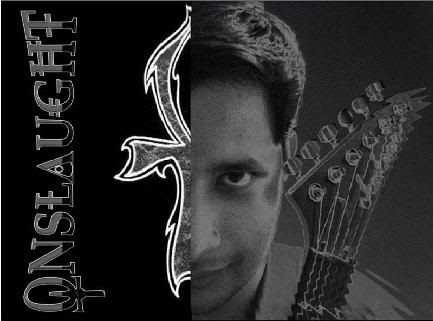 Rock3:
Hello Yohan, first of all thanks for taking time for this small interview. What music are you listening to these days?
Yohan:
You are welcome. Although my music tastes are varied, I mostly prefer rock music and its different genres. Basically anything which has a guitar with really catchy solos or cool progressions in it. I also listen to a bit of classical music as well as (believe it or not) video game music as some of my solos and rhythms are derived from some of these kinds of music. This might sound a bit weird, but hey, there is always creativity in madness.
Where metal music is concerned, I have many influences such as Metallica, Megadeth, Firewind, Black Sabbath, Dream Theater, Black Label Society, Judas Priest and the band that partly inspired me to start playing the guitar – Iron Maiden.
Rock3: Would you like to tell a brief story about Onslaught?
Yohan:
Onslaught was the brainchild of my brother Rueban who is also the drummer of the band. The band was formed in 2007 with the addition of Johnny Abraham on vocals. Although Johnny, was supposed to carry out the full fledged vocals for the band, it did not work out due to problems with commuting from one city to another. But we still consider him an active member of the band as he has filled in vocals for the song House of Pain which highlighted the creation of our album.
All our recording was not done at a studio like other bands but in our own home studio. We are proud of the fact that we create recordings in our own terms without external aid.
Our influences range from new age alternative to heavy/thrash metal with a hint of Christian values added to it.
Rock3: Since how long have you been playing the guitar? After listening to the album, I came to realize that your solos are phenomenal. What is your inspiration?
Yohan:
To be honest, I started learning the guitar after completing my graduation. I was going to a music teacher for learning at that time, but never learned anything in the process. One and a half years later, I was still as bad as ever in playing the guitar as I had a huge gap in practicing due to my higher studies and my job.
Finally, a day came when I wanted to play in my church gospel band because my brother was the drummer for that band. So, the fact that my bro had already established himself as a drummer and I was nowhere near ready really sparked me off.
I practiced for 4 days and nights without any breaks to get the hang of the guitar, and finally in the summer of 2006, I did manage to play in the church band and that was when I really started playing the guitar. So, on the whole I have been effectively playing the guitar for about one and a half years now. Therefore, I must say that my inspiration was partly accredited to my brother and partly to Iron Maiden as I had mentioned earlier.
Rock3: What guitar did you use on the record? Any reason as to why you chose that particular guitar?
Yohan:
I used a Jackson JS30 King V model for recording the album. I was aware of the flying V guitars, but I got fascinated by these guitars after I saw KK Downing of Judas Priest playing the guitar in one of their album videos.
One unique aspect of this guitar is its very powerful sound, as this kind of guitar is mainly used for stage performance. It's got those humbucker pickups which add to the cool and razor sharp look of the guitar. Another aspect about this guitar is that it gives the player the versatility to play both leads and rhythms very efficiently as compared to other guitars. Apart from the Jackson Flying V's I also would prefer the Razorbacks from Dean Guitars.
Rock3: Who writes the lyrics for Onslaught and who composes the music?
Yohan:
My brother writes the lyrics for all the songs as he is good at it. The music composing is done by both of us. The rhythms come to my head when I hear the lyrics and the drumming. Once that is done, I come up with a solo. All the instrumentals are composed by me as it involves playing a lot of guitars. So, basically, we compose the music based on each other's inputs and suggestions to come up with what we call a masterpiece.
Rock3: Would you like to say something about the sudden rise of Christian metal and how has this inspired you?
Yohan:
The sudden rise of Christian metal means only one thing, a lot more people out there are starting to believe. Although, some people believe that rock/metal music is the "devils" music, I find it amazing to know that these Christian bands are able to channelize such music to convey Gods message.
Another, unique about these bands is that the music is very catchy as compared to the music that the conventional praise bands play. Now, I am not against praise bands as I have been in one (my church gospel band) and this was the forerunner to the start of Onslaught. What I am trying to stress is that the world is currently full of wrong ideals, methodology and concepts.
Consider this; when a rock music lover is asked to take a choice between praise band music and heavy/death/punk/black metal, he would obviously choose the latter not knowing the fact that some of these bands DO convey the wrong meaning as this music is very catchy. However, when the same guy listens to the same genre of music but with a touch of Christian values added to it, he would prefer that as well because the music is catchy.
In the long run, I would say that if a person listens to Christian metal, the good message is conveyed in the form of rock music which is rather innovative and unique.
After me and my brother, had quit our church gospel band, we decided to start our own metal band, but the thought of going Christian style never occurred to us, till we listened to the songs of POD, Demon Hunter, Mindrage, Six Feet Deep, White Cross, Barren Cross, Mars Hill etc. We then thought, "hey that not such a bad idea" let's do it this way. So, it was thus that Onslaught was formed to give rock music to the world…Christian style.

Rock3: So what are Onslaught's future plans?
Yohan:
We have currently released one album for sale and one EP free for download. We are going to release another album next year; however, we are still planning on this as we are pretty much busy with our work schedules. For our next album, Johnny our vocalist would most probably be taking part in providing vocals for all our songs and will inform everyone once our next album is out.

Rock3: Thanks for this interview Yohan. I hope the readers will get to know more about Onslaught from this interview. Would you like to leave a message for all the listeners and readers?
Yohan:
Thanks, it's been a pleasure. My message to all listeners and readers is – One must learn to embrace Christian values in the true spirit of rock n roll.
For more Infromation on Onslaught:
Myspace: MySpace.com - Onslaught - Hyderabad, Andhra Pradesh - Metal / Alternative / Christian - www.myspace.com/onslaughtindia
Website: Onslaught India Official Website
To Purchase the Album: Buy Hindi & English Music CDs, Bollywood & Hollywood Movie CDs, Indian Classical Music, Indi Pop & Music DVDs Online in India
-
Interview by
Christopher Perez