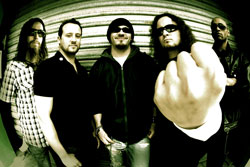 How did the band get together?
F : Guillaume called me to crush the enemies in order to hear the lamentations of the women so I said : Well, sounds like a plan, but I would way more forming a band with you ! He said yes, and then we called Dirk, Loic and David !
So, few weeks after this call, we started to compose, and it worked very well !
Where do you all come from?
F : We come from the frog eaters country except Dirk, he's from the french fries country ! weird, isn't it !
Loic, David and I live in Angers (FRANCE), Guillaume lives in Nancy (FRANCE) and Dirk lives in Clevland (USA) !
What bands were your greatest influences?
F: we have a lot of differents influences. Loic listens to Jazz and other stuff, Dirk listens to Naplam Death all day long, Guillaume listen to everything with nice choruses (from George Micheal to Pain). David is a big fan of Megadeth, Pantera, Slayer, all the thrash bands with plays monster riffs. We listen to different stuff and I think that you can hear it on the album. It's really eclectic. We need our music to be very diversified, cause each musician wants to hear his influences in One-Way Mirror.
When did you start playing an instrument and what was it?
F: I started playing music with my brother when I was 5 or 6 years old... I was playing drums on empty cases and David played guitar with only one string!
Then I went to a drums school for 2 month and I stopped. I really started music for the first demo of our other band Lyzanxia. I was 16... and I've never stopped playing.
What was the band most memorable gig to date?
F: Scarve and Lyzanxia were on the bill of a festival in Britany. We knew each other for a long time, but I think that it was our first or second gig together. We played few songs all together on stage and it was really crazy and funny, I've got some pitcures to show you one day!
What do you do to relax on tour?
F: We visit the cities, we visit the bars, play at the casino, baths and Hammans, meet people and party! That's the most important.
tell us about your current album, how long did it take to record?
Guillaume and Dirk recorded the drums at the dug out Studio in Sweden with Dan Bergstrand. It took 3 day. Due to our complicated schedules we recorded the guitars, bass, vocals and samples one year after the drums. In our own studio, the Dome Studio and the Dogs in the house.
That was really cool to record in our own studio, we felt really relax with no pressure.
Then after the recording, we went to danemark at the Antfarm Studio with Tue Madsen to mix the album.
That was really cool to work with him. He made something bigger in the sound we had and added some cool effects ideas.
Who writes the songs?
F: Guillame, David and I. We are the 3 composers for this album. We always work as a pair. Guillaume and I, or, David and I, or, David and Guillaume ! that's really cool for us to work like that... we can compose really quickly. We used to do songs on 3 hours. 1 day is the maximum to compose a song !
Have you any plans for the rest of the year?
F: we're gonna do our best to tour a lot. We would love to tour in Europe and in the US. Everywhere we can plug our amps actually ! We're currently working on gigs and tour, we'll have confirmed gigs really soon.
What is your favourite song of all time?
The song we are composing rigth now !
What is the bands ideal goal?
Continue to play music, going on tour, drink free beers, meet poeple, having fun and the most important for me : travel and visit new cities !
What equipment (manufacturer) does each band member currently use?
F : I play on a 50cl strong beers and shots of vodka. Sometimes I use whisky !
Loic plays on Spector, Warwick and EBS amps... he also drink a lot of beers !
Dirk plays on Tama and Paiste.
David use ENGL savage 120 and a wonderfull Gibson Les Paul Menace.
Who has the worst habit?
Guillaume. But I can't tell you what it is, cause you may trash you One-Way Mirror CD! Hahaha!
Guillaume Bideau – vocals
David Potvin – lead guitar
Franck Potvin – rhythm guitar
Dirk Verbeuren – drums
Loic Colin – bass